The festival is the most luxurious, large and colourful celebration to be performed in Cusco as it was originally dedicated to an Incan ruler, considered to be a demigod for his people. The Sun was to be worshiped and offered sacrifices to avoid that it would leave the Earth and its children during its long journey while it ensures its return providing heat and joy, which was especially important for the Andes when the Sun is the only resourse of warmth.
There are several reasons that have forced Inca civilization to make sacrifices and offerings to their ruler (Inca), the personification of the Sun on Earth to whom they owe their existence!

1.- If the corn harvest during the last agricultural year was sufficient, people had to be grateful, but if the harvest was poor, it was necessary to ask for an improvement for next year.
2.- The sun moved away in June (during the winter solstice), so temperatures dropped and the water froze at dawn. Therefore, it was necessary to ask the Sun for its return so that it would remain close at dusk and not move north.
3.- In the end, it was necessary to prove to the sun (the eternal and absolute gift of its children) their subordination and respect.
The Inti Raymi Festival will allow you to become fully acquainted with Inca culture and gain once in a lifetime experience with many colourful, festive and cultural events at this time!
Inti Raymi Peru Overview
Sustainable Tourism: At Tierras Vivas, we are happy to promote and practice sustainable tourism by being eco-friendly and supporting local communities
Inti Raymi Operator: Tierras Vivas Travel
Service Level: Comfortable, tourist-class accommodation, tourist-class train, and private transport.
Trek's Difficulty: 2 - moderate; a low-altitude hike, accessible to healthy travelers.
Age Requirement: 4+. Please note: all participants under the age of 18 must be accompanied by an adult.
Permits: It is included the Inti Raymi, Tourist Ticket for the Sacred Valley and Machu Picchu. Please note: this year, there are a limited for the Inti Raymi ticket, it is very important to book in advance.
Crew: A professional Tour Guide.
Meals: 4x breakfast, 1x box lunch (during Inti Raymi), 1x lunch, 1x bag of snacks.
Transportation: Private van, 2x train.
Accommodation: Hotel, 3* hotel (4 nights), you will spend a night in a comfortable hotel with a private bathroom.
Quick Itinerary
Day 1: 22 June: Arrival to Cusco city
Day 2: 23 June: Sacred Valley Tour
Day 3: 24 June: Inti Raymi 2023 Tour
Day 4: 25 June: Machu Picchu Tour
Day 5: 26 June: Departure day
Highlights of the Inti Raymi 2023
Enjoyment of the golden point of Inca culture.
Celebration of the famous Inti Raymi festival in Peru accompanied by a professional guide explaining its details and significance.
Walks through the historic Inca capital of Cusco.
The beginning and end of the tour in Cusco.
Letting yourself to be guided through the Sacred Valley of the Incas with its stunning nature, Inca complexes, rich harvest and friendly atmosphere.
Taking the train to Machu Picchu - a quick and convenient way to visit the ancient Inca citadel.
Witnessing the majesty of the Lost City of the Incas.
Experiencing a guided visit to Machu Picchu - the New Wonder of the World.
In case, you would like to combine Inti Raymi with the Inca Trail, please click on Inca Trail to Inti Raymi 2023
Inti Raymi Festival 2023
The sun worship festivity (Inti Raymi) will be held this 2022 with all the biosecurity measures and will be attended by few people. it is very important to book way in advance.
We follow the "Health Guidelines for COVID-19 for Tourist Destinations" issued by the Peruvian government.
Everybody needs to wear a mask.
Alcohol-based hand sanitizer and soap are available during the whole tour.
A security personnel check that the participants and staff use masks and clean their hands correctly.
A security personnel the body temperature of passengers regularly and monitor and record any incident.
The Tour Guides remind participants about health and safety guidelines during the tour.
Our Guides have emergency numbers ready to report any suspect coronavirus case.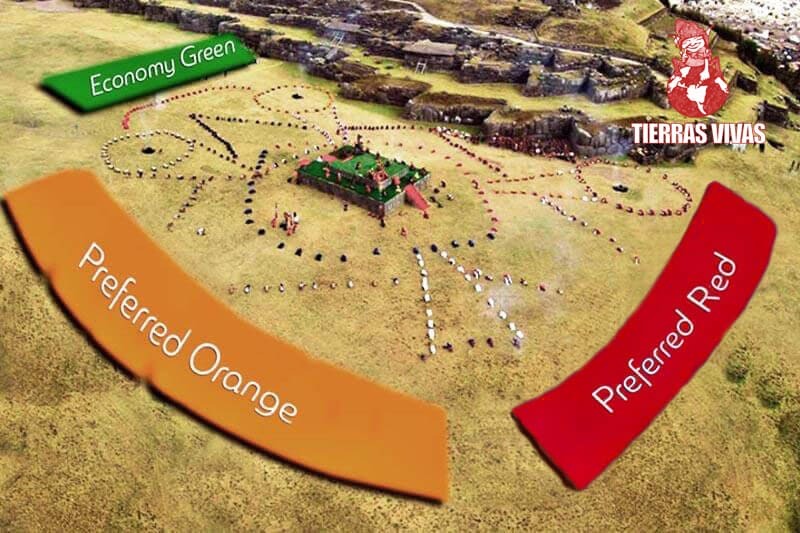 Responsible Travel
It is our foundation focused on help to Andean native people and disadvantaged people. If you like to know more, please click at Responsible Travel.
BOOK ONLINE